Celebrating Rachel Carson's Birthday 2019
Our newest podcast hosted by The Social Voice Project takes you to Springdale, PA on a beautiful Memorial Day to celebrate Rachel's birthday. Enjoy, share, and donate to help us bring more and varied podcasts! Thank you for being part of Rachel's legacy.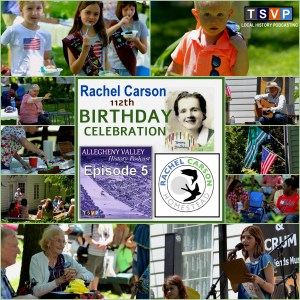 Walking into Rachel's Study at her Cottage in Maine…
Take a chance to win a week at Rachel's cottage. Wendy Sisson talks about why she and Roger Christie help the Rachel Carson Homestead fund-raise with a chance for some lucky person (and a few friends) to spend a week at their cottage.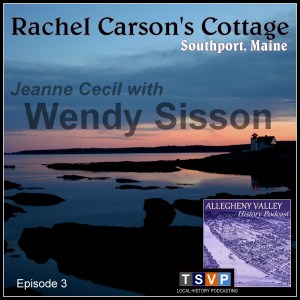 f
Friends of the Rachel Carson Homestead
Our second podcast episode features two dedicated volunteers, Connie Rusek-Lichok and Linda Askren. Join us as a volunteer, donor, visitor, and help spread the word – and Rachel's house will become sustainable and her messages shared.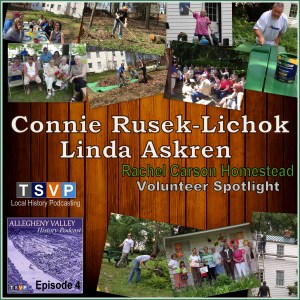 Introduction to the Rachel Carson Homestead
Jeanne Cecil | Rachel Carson Homestead
First podcast for the Rachel Carson Homestead! On episode 2 of the Allegheny Valley History Podcast, guest host Kevin Farkas of The Social Voice Project talks with Jeanne Cecil of the Rachel Carson Homestead in Springdale, Pennsylvania about the early childhood home of world renowned environmentalist Rachel Carson.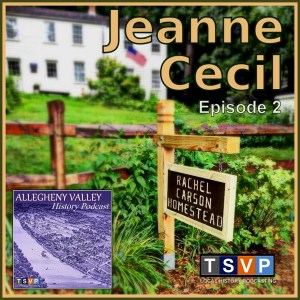 Just a note on the podcast: It is humbling to be involved with this legacy that I hesitated when questioned about myself. Miss Beulah Frey was the dedicated educator who inspired so many young people in our area to "nature study," ecology, environmental awareness, and such directions. Mrs. Evelyn Hirtle (Evie George) was a compatriot of Miss Frey. Together they did some heavy lifting in the early years of RCH. With your help, we can continue the legacy of Rachel Carson and those whom we follow! "Thank you" to everyone who shares in honoring Rachel Carson, her legacy, and supports the RCH! 
Sincerely,
Jeanne