Loss of Rachel Carson Homestead Founder and Director Emerita
With great sadness, we share news that Mrs. Evelyn Hirtle George passed away peacefully on March 3, 2023. Known as "Mrs. Hirtle" to high school students in the Highlands School District in the Allegheny Valley near Pittsburgh, she preferred to be known simply as "Evie" at the Rachel Carson Homestead, where she was instrumental as a founder and director for many years. Our focus here is on Evie's role with the Rachel Carson Homestead.
Her formal obituary tells the larger story of a wonderful celebration of life.
In 1975, the house at 613 Marion Avenue in Springdale, formerly owned by Robert and Maria Carson and not aligning with the zoning, was allegedly slated for demolition. Imagine someone born in a very humble home, of limited means, coming to eventually change the world view. What a powerful message that home can send, that "One voice raised in love … makes a difference – Rachel showed that all to us" *
Evie, along with Carson admirers Mrs. Ruth Jury Scott, Mrs. Agnes Kinard, and Mr. Edmund Boyle, established the nonprofit "Rachel Carson Homestead Association" (RCHA). Its mission was to preserve Rachel Carson's birthplace and provide environmental education, along with educating about the important contributions of its namesake.
The RCHA board petitioned Springdale Borough to purchase the house with funds bequeathed for recreation and education, and initially lease it to the nonprofit. Eventually the municipality agreed, with RCHA responsible for maintenance and all expenses. These founders literally saved the house from the bulldozer. The early years were not easy. Though Carson was credited with inspiring environmental legislation in the U.S. and the worldwide environmental movement, she became a scapegoat for local mill closings and job losses. With Evie at the helm, the board persevered.
Evie explained naming the site a "Homestead" because though its most important value is being Rachel Carson's birthplace and early home, the grounds, springhouse, and other features add further historical value. The RCHA successfully petitioned to have it included on the National Register of Historic Sites. The PA Historical and Museum Commission, overseeing such sites, refers to the humble home as one of the most important buildings in Pennsylvania.
Once RCHA was formed, Evie gave her time, skills,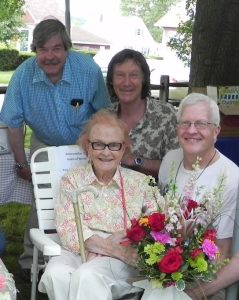 knowledge, and energy to grow the board, develop and deliver programs, and to administer the nonprofit for many years.
Evie, along with Mrs. Ruth Scott and Miss Beulah Frey, was pivotal in designing Pennsylvania's public school environmental education earlier in the 1970s. As an inspirational biology teacher and administrator, this unsung hero became a mentor, influencing and encouraging many students.
Evie remained a devoted and stalwart advocate of the Rachel Carson Homestead throughout her life. Despite her pivotal role, Evie was selfless and completely humble: everything was about Rachel Carson and the Homestead.
Evie is already sorely missed.
In lieu of flowers, Evie's family suggests donations for continuing her legacy at the Rachel Carson Homestead. Comments can be added into the form, and will be forwarded to her family.
*Song for Rachel, Walkin' Jim Stoltz