The new roof is finished! We're so grateful the old one held out.  We also have a new "classroom" and trail signs. Many more improvements and projects will continue to turn this landmark into the destination deserving of Rachel Carson's name. Take a look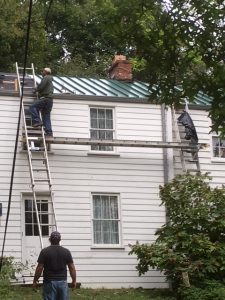 The roof was replaced with a "100 year" metal roof. While the old shingles were good quality, the roof did not last well due to lack of ventilation and the tremendous amount of leaf debris that required continual maintenance.
After removing old material, repairing planks, additional work occurred before the actual metal could be applied. The new roof includes ridge vents and new chimney flashing. We can breathe a little easier with this new roof on the Carson Homestead.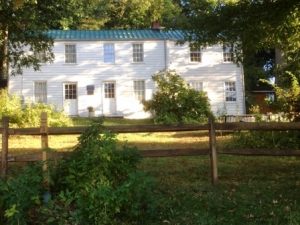 Our new "classroom" was much needed, and funded entirely through donations and matching funds.

It hosted an inaugural event and a program during Rachel's Birthday. It deserves some furnishings and more. With your help, its potential will grow.
Thank you for your support! Please consider a new or gift membership.