We hope you enjoyed THE SEQUEL sponsored by Rachel Carson Homestead  – watch for new films soon. Sign up for email notifications
THE SEQUEL with lessons to "Fall in love with the Earth." We were inspired to present this film because of its global focus  and as a direct extention to "subversive" ideas Rachel suggested in the 1950s.
Starting with a simple and dramatic perspective of "man in the stream of time," it leads to an approach of sustainability.
The films we are selecting couch ecology and environmental issues in a larger context. They build a foundation which we'd like you to help us articulate and share. Stay tuned!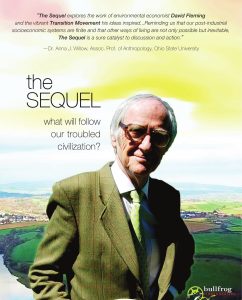 THE SEQUEL: and legacy of an amazing man, David Fleming, a historian, economist, and ecologist with a deep understanding of how we got here and a compelling vision of how we can recover what we have lost as the market economy has worked its way into every aspect of our lives. THE SEQUEL recognizes the fundamentally unsustainable nature of today's society and dares to ask the big question: What will follow?
THE SEQUEL  from one of the reviewers:
"Through two decades of work on climate issues, I've come to appreciate that our challenges are less political and technological than we imagine them to be. Rather, our core challenges are relational and social – of how we can come to understand ourselves as connected to community across scales from local to global. The Sequel is an inspirational and particularly useful touchstone for those thinking about and seeking to secure a just, sustainable and resilient future for all."
 –Steve Adams, Director of Urban Resilience, Institute for Sustainable Communities
The late David Fleming was a historian, economist, and ecologist. The projects and people in the film were inspired by Fleming's "Lean Logic: A Dictionary for the Future and How to Survive It", "a work of rare depth that is rekindling optimism in the creativity and intelligence of humans to nurse our communities and ecology back to health."
Rachel ended each chapter of Silent Spring on a note of optimism. We're not sure she would have maintained it through these decades, so decide for yourself.  Send an email to RSVP@RachelCarsonHomestead.org  and we'll send you the link and password! The film is available all weekend!
The ticket is FREE – but we hope you'll share your comments, and  Your Donation is welcome and appreciated!
Donate here to help fund the Rachel Carson Homestead